Let's talk it over
Being a parent isn't easy. You want your child to have a wide range of experiences and grow into a successful, independent adult. At the same time, you want to protect them from the many dangerous substances and situations out there in the world.
So what do you do? It's actually simpler than you may think. Talk it over. Tell your child what you know about drugs, alcohol, and other risky behaviors, including your family history—and what you want them to understand. Ask questions about their opinions and preferences. Listen. Let them know how much you care about them and their future.
Choose the topic you're interested in, and let's get the conversation started.
Problem Gambling Awareness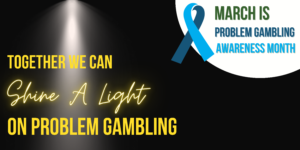 March is Problem Gambling Awareness Month (PGAM).  With the expansion of gambling opportunities in NYS the gambling landscape has drastically changed. There is more accessibility and availability to gambling activities than ever before. This makes the work of raising awareness of problem gambling more important than ever before. This month, the New York Council on Problem Gambling (NYCPG) is challenging everyone across New York State – individuals, agencies, and communities alike – to come together to shine a light on problem gambling. With gambling opportunities expanding at rapid rates in New York State and beyond, it is imperative that all factions of the community, in all geographic areas of the state, join forces to raise awareness of the issue of problem gambling, prevent any additional problems related to gambling, and get those in need to adequate support services in their own community. To find out how you can get involved in problem gambling efforts this month, and all year round, visit NYProblemGambling.org/PGAM.