Let's talk about gambling problems.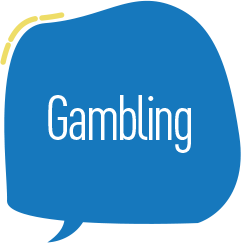 When relatives put lottery tickets in a child's birthday card, it seems innocent and something fun to enjoy. Taking a child to bingo seems like a fun night out.
In reality, these occasions teach children about gambling, and worse, that's it's an exciting activity with no consequences. By finding the time to talk with your child about the reality and dangers of gambling, you can help prevent a serious problem that could ruin their future.

What parents need to know
Recent studies have established that many adolescents who engage in gambling activities are also involved in other problem behaviors.
In New York, there are a limited number of casinos that also include poker rooms.
Lottery and bingo are other legal gambling options at certain ages.
There is currently no legal way to play online casino games such as poker, though it is possible for youth to access gambling websites in illegal ways.
| Type of Gambling | Legal age in NY |
| --- | --- |
| Casinos | 21 |
| Poker Rooms | 21 |
| Bingo | 18 |
| Lottery | 18 |
| Dog / Horse Racing | 18 |
| Online Casinos | 21 |
| Online Sports Betting | 21 |
| Online Poker | 21 |
| Online Bingo | 18 |
While New York has many restrictions for youth gambling, there are several legal gambling ages for different games or betting environments.
Starting the conversation
When you think about all the important talks you have with children as they grow up, the potential consequences of gambling may not seem like an obvious one. But it's just as important as any other life lesson.
Bring it up before your child does. You may worry that you're putting ideas in your child's head, but it's more likely that your child is already forming attitudes to gambling on their own.
Explain that gambling results in losing more often than winning. Spending money on things they want is better than losing it all on a bet.
Explain that underage gambling is illegal.
Talk to them about the consequences of problem gambling such as depression, financial problems, lower self-esteem, lower grades, and damaged friendships.
Encourage healthy spending. Talk with your child about how they plan to spend money they have from after-school jobs or allowance.
Ask questions about their experiences with gambling—and listen to their answers.
Check your credit or debit card statements. Virtual gaming and gambling websites regularly offer purchased credits or rewards, and it's not always obvious that these purchases relate to real money.
Enforce rules on internet use. Create a screen-time plan, keep devices in a shared or visible place in the home, filter access with safe internet searching settings, or install software to block gambling sites.
Be a good role model. If your child is regularly exposed to you or other family members gambling, it sends a message that gambling is a harmless, risk-free activity.