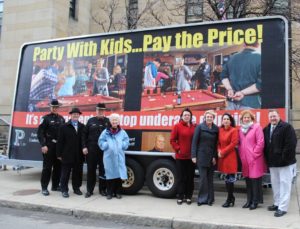 April is Alcohol Awareness Month!
BUFFALO, NY – As part of our continuing focus on underage drinking, Erie County Sheriff Timothy B. Howard, along with Erie County District Attorney Frank A. Sedita, III, and Px20 Prevention Service Providers, unveiled the new media campaign, "Party with Kids…Pay the Price!" which is aimed at parents and adults who provide alcohol to minors.
The press conference unveiling this new campaign received some great media coverage:
.