Celebrate 2011 Prom and Graduation Season Safely: A Message from Sheriff Tim Howard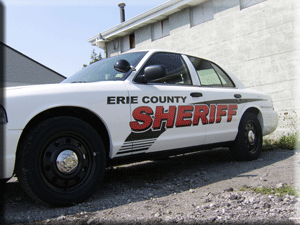 The prom and graduation season is a time of celebration for teenagers and their families, providing lifetime memories. Unfortunately, it is also a time when teens encounter situations that may lead them to make bad decisions such as underage drinking or drug use. That's why I am committed to making this year's prom and graduation season safe and free of danger for our youth. We have been fortunate in Erie County in that we have not had any recent alcohol or drug-related fatalities as a result of prom and graduation activities. But now is not the time to let our guard down. As a community, we need to continue our vigilant efforts to do everything possible to prevent such tragedies from occurring.
The Erie County Sheriff's Office is committed to a zero tolerance standard for underage drinking. During this season, we will have ongoing saturation patrols consisting of officers aggressively patrolling the roadways looking for drunk or drugged drivers as well as traditional sobriety checkpoints. We also continue to use billboards, Underage Drinking Tip-Line (1-800-851-1932) and heighten public awareness on underage drinking.
In addition, we are reminding merchants, hotels, vendors, restaurants, bars, night clubs, parents, and students about the dangers of underage drinking and to remember fatalities involving teens and alcohol are tragic and can be prevented because it is against the law in every state for young people to consume alcohol.
Also, we encourage teens who want to extend their celebration to consider attending a party held by parents after graduation ceremonies where teens can experience a safe, alcohol-free gathering. High school students in Erie County are very fortunate to have parents, businesses, communities, and police who care enough to provide for a safe prom and graduation experience. Together, we will make a difference.
If you need additional information or would like a presentation please contact our Underage Drinking Program Coordinator at 716-858-6305.